Webinar hosted by Tony Morgan, Jason Anderson (Eagle Brook Church), Jeff Henderson (Gwinnett Church) and Chris Surratt (Lifeway)
---
What You'll Learn in This Webinar
Far too many churches find themselves "multistuck" because they don't hire the right leader for the campus pastor role.
Or even worse—many end up splitting into multiple churches (unintentionally) as the result of misunderstanding how this role should function in a healthy multisite church.
In this free webinar, Tony Morgan hosted a practical discussion on the role of the campus pastor and how to avoid the mistakes The Unstuck Group most often sees hurting churches as they launch campuses.
This conversation delves into:
- What a Campus Pastor Does & Doesn't Do
- Finding DNA Match
- Weighing Leadership vs. Location in Campus Success
Plus! We dug into the reasons why our team almost exclusively recommends video teaching in multisite churches, personality types and strengths that are really well-suited for this role, and red flags someone isn't a good fit long-term.
And, we saved the last 15 minutes of the webinar for live Q&A—which always proves to be a fun, candid and practical part of the event.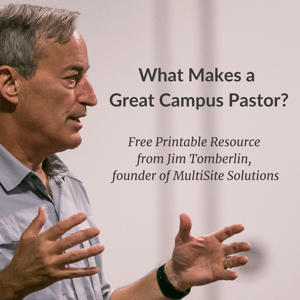 Tony and all three panelists have experience as campus pastors in churches with decades of success using a multisite strategy to reach more people in more places with the Gospel.

Catch the replay today!
+ BONUS RESOURCE
Jim Tomberlin of MultiSite Solutions provided a printable article for webinar participants. Get a download of What Makes a Great Campus Pastor? along with the video replay of the webinar.