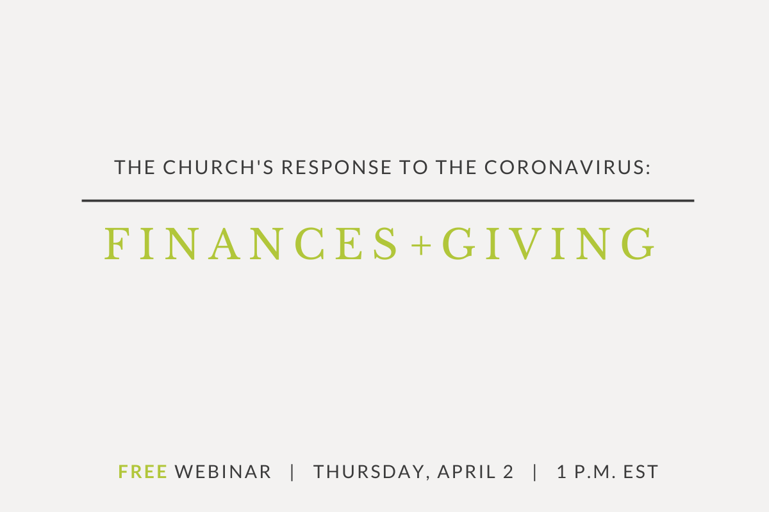 ---
REGISTRATION FOR THIS EVENT IS NOW CLOSED
---
The Church's Response to the Coronavirus: Finances + Giving
Webinar hosted by Tony Morgan, Amy Anderson, Rick Holliday, David Vaughan and Scott Moore
45 Minute Webinar + 15 Minute Live Q & A
We will send out a replay after the webinar to everyone who registers.
---
---
The whirlwind of ministry just changed, and with each passing day the uncertainty seems to increase.
We're with you.
As church leaders, we're in uncharted territory—for this generation, at least—but the Church has withstood and thrived in times of persecution and plague, panic and need.
If money was a challenging topic for church leaders before, it feels all-out tricky right now.
What's appropriate? What's helpful? What's effective? What's right?
Questions about how our churches navigate finance and giving discussions during this crisis have been pouring in.


FREE WEBINAR
In this free webinar, Tony Morgan will host Amy Anderson, Director of Consulting for The Unstuck Group, Rick Holliday from North Point Ministries (Alpharetta, GA), David Vaughan from Whitewater Crossing Church (Cleves, OH) and Scott Moore from Eastridge Church (Covington, GA) for a conversation on how real churches are responding.
Expect practical examples and best practices we're seeing across the country.
Join us for an hour on Thursday, April 2nd at 1 p.m. EST for a free webinar.
Register Now! It's free.